MOC annual report showcases research and value-based initiatives in support of UCS Health True North Pillars and Strategic Priorities
August 29, 2023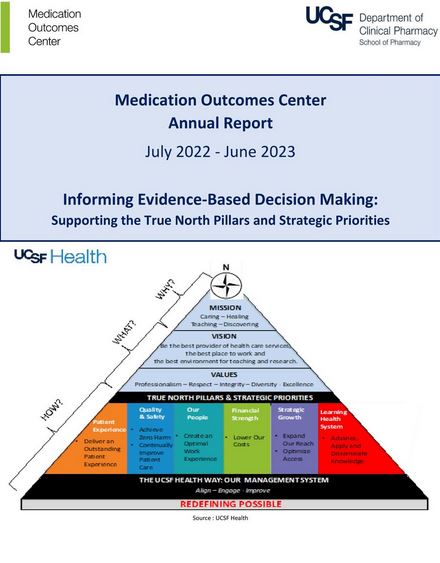 The Medication Outcomes Center's 2023 annual report presents an insightful overview of value-based medication use efforts. These efforts encompass diverse areas such as real-world medication dosing practices, expanded use of biosimilars, and the health and economic impacts of prescribing practices of opioid analgesics and cost-effectiveness of diabetes prevention programs. In addition, the 2023 annual report underscores the MOC's commitment to enhancing drug formulary management and conducting value-based analyses of medications with a focus on high-cost and high-volume medications. These analyses are instrumental in optimizing medication usage and in providing guidance for best practices across the UC system.
Read the full MOC 2023 report here.
New study on patient safety
Febuary 22, 2023
Rosa Rodriguez-Monguio, PhD, MS and her team recently published a study assessing the safety implications of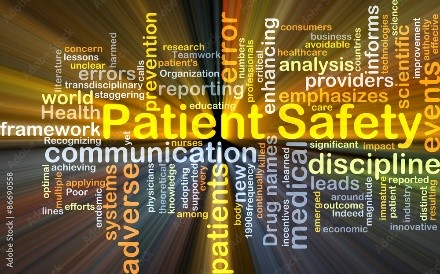 concomitant use of opioid analgesics and antidepressants among adult surgical patients. The study used electronic medical record data and stratified patients based on the type of antidepressant used prior to hospitalization. The researchers controlled for various demographic and clinical characteristics of the patients as well as their postoperative pain levels. The findings of the study indicate that patients taking inhibiting antidepressants required a greater amount of opioids per day of hospitalization and had a greater likelihood of experiencing postoperative delirium compared to those taking non-inhibiting antidepressants. The study also showed that postoperative delirium was significantly associated with an estimated average of four additional days of hospitalization. Given the high prevalence of antidepressant use and the reliance on opioids to manage postoperative pain, the study highlights the need for careful consideration of the risk-benefit ratio associated with concurrent use of opioids and antidepressants.
To read the manuscript on patient's safety of concurrent use of antidepressants and opioid analgesics click here
CDC grant to assess cost-effectiveness of diabetes prevention programs
July 22, 2022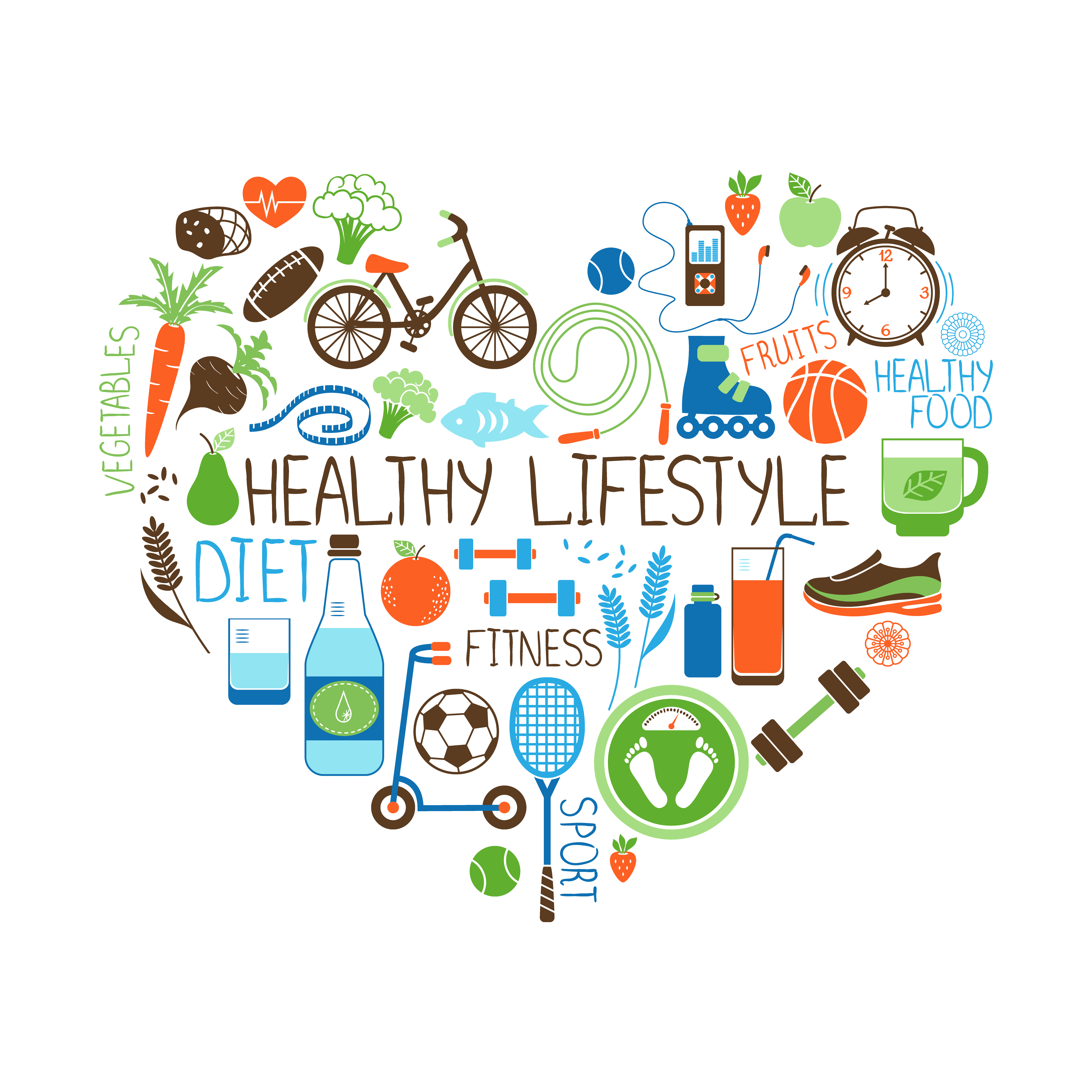 Rosa Rodriguez-Monguio, PhD, MS, and collaborators Drs. Moin and Duru at UCLA, recently funded by the Centers for Disease Control and Prevention (CDC) to assess the long-term effectiveness and cost-effectiveness of a real-world diabetes prevention program delivered across diverse settings and populations. Investigators will leverage electronic medical record data, administrative data, and diabetes prevention program longitudinal cohort data to assess the percent weight change and type 2 diabetes incidence at 5 years follow-up in eligible participants who completed the diabetes prevention program and propensity score matched eligible participants who did not enroll in the program. They will conduct stratified analyses by age, sex, race, ethnicity, and program delivery mode (in-person, online), and social determinants of health (area deprivation index).
MOC annual report highlights research and value-based initiatives to inform decision-making
The Medication Outcomes Center's 2022 annual report provides an overview of the value-based care work conducted in antimicrobial stewardship, safety of biosimilars, and perioperative prescribing practices of opioid analgesics. In addition, the 2022 annual report outlines MOC work to support drug formulary management, inform decision-making of high-cost medications, and conduct medication use evaluations.
Read the full MOC 2022 report on informing evidence-based decision-making here.
New MOC publication on the clinical significance of hospital admission medication reconciliation
Rosa Rodriguez-Monguio, PhD, MS in collaboration with our UCSF PharmD students recently published, in the Res Social Adm Pharm., the first study to assess clinical the significance of medication reconciliation in surgical patients using high-risk extended-release/long-acting (ER/LA) opioid medications. In this retrospective observational quasi-experimental study investigators assessed differences in the perioperative use of opioid analgesics in patients who underwent medication reconciliation upon hospital admission compared to patients who did not and identified predictors of perioperative use of opioids.
Upon patient hospital admission, pharmacist staff at our institution identified and discontinued inactive ER/LA opioids, switched ER/LA opioids without indication of use to less potent short-acting (SA) opioids, and discontinued unnecessary use of SA opioids during the hospitalization. Switching patients from ER/LA to SA opioids reduced the mean daily use of morphine milligram equivalent by 66.03 units (p < 0.02). The median (interquartile range) length of stay in patients who underwent medication reconciliation was 5.17 days (5.18) compared to 7.16 days (10.16) in patients who did not undergo medication reconciliation (p= 0.02). Study findings showed that, after adjusting for patients' demographic and clinical characteristics, surgical procedure type and post-operative pain, medication reconciliation upon hospital admission reduced unnecessary exposure to opioids in hospitalized surgical patients while maintaining optimal pain control after surgery. 
To read the full article on hospital admission medication reconciliation click here.
MOC faculty featured in UCSF Magazine article on generic drugs
Drs. Candy Tsourounis and Shalini Lynch were recently featured in the winter edition of the UCSF Magazine talking about common
myths regarding generic drugs. Although their use has more than doubled over the past decade and more than three-quarters of prescriptions in the U.S. are for generic drugs, common myths persist. In the article, Drs. Tsourounis and Lynch address some of the most common misconceptions, including perceptions of generics being second-rate knockoffs, and beliefs that these cost-saving and efficacious drugs are not rigorously tested or as effective as their brand-name counterparts.
Read the article dispelling these myths here. 
New MOC publication on substance use treatment services utilization and outcomes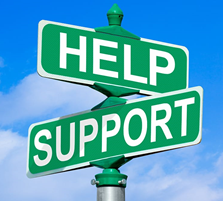 Rosa Rodriguez-Monguio, PhD, MS and collaborators recently published, in the American Journal on Addictions, the first   study to assess substance use treatment services utilization and expenditures and relapse and recidivism outcomes in a   propensity-score matched cohort of probationers in drug courts and traditional courts. Compared to probationers in   traditional courts, a significantly greater proportion of probationers in drug courts used opioids as their primary drug of   choice, had a history of substance use treatment, and were at a high and very high risk of recidivism. There were no   statistically significant differences in the rates of relapse or recidivism or adjusted expenditures per probationer after   initiating court systems. Authors concluded that drug courts provided a comprehensive array of acute and residential   treatment services along the continuum of care for probationers at risk of reoffending in need of substance use treatment   who otherwise would lack access to these services.
To read the full article on substance use treatment service utilization and outcomes click here.
MOC annual report highlights support to evidence-based decision-making and COVID-19 pandemic response
The Medication Outcomes Center's 2021 annual report provides an overview of work conducted in formulary management, value-improvement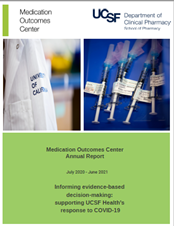 initiatives, and health outcomes and economic evaluations, in efforts to support UCSF Health's True North Goals and of UCSF's and its partners' initiatives to address the impact of the COVID-19 pandemic.  
Read the full MOC 2021 report on informing evidence-based decision-making here.
MOC welcomes visiting scholar, Dr. Anna Kiyomi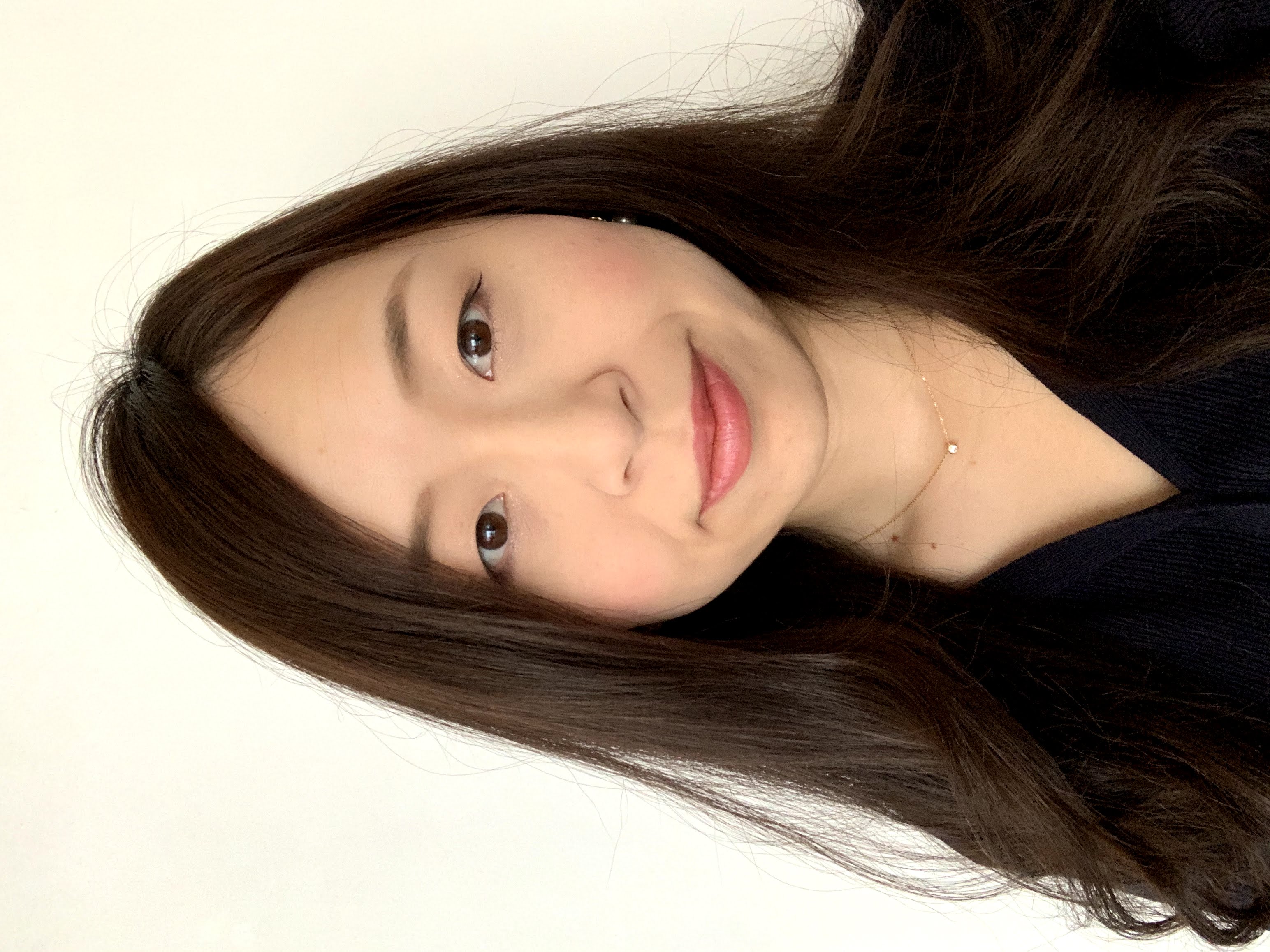 The MOC is happy to welcome Dr. Anna Kiyomi, a visiting scholar from Tokyo University of Pharmacy and Life Sciences. Anna's research interests include clinical pharmacology, drug safety, pharmacoepidemiology, economic evaluation of health care, and   medication outcomes. While her past work has focused on oncology agents, Anna is looking forward to undertaking COVID-19 related   work.
 "I believe health outcomes research via electronic healthcare records is one of the best ways to understand and reveal what happens    in the real world. It may also provide us with novel findings and give us suggestions on what we might change to improve our patient's health." – Dr. Anna Kiyomi
The MOC looks forward to Anna's contributions, welcome Anna!
New MOC publication looks at predictors of opioid analgesic shortages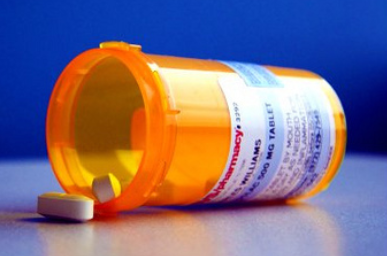 In a recent PLoS ONE manuscript, Rosa Rodriguez-Monguio, PhD and colleagues assessed the incidence of shortages of opioid analgesics in the US during the period 2015–2019. The team evaluated predictors of shortages of opioids using 8,207 national drug codes (NDCs) for opioid analgesics approved by the FDA. Study findings provide evidence of a significantly greater risk of shortage of opioid analgesics in companies that experienced prior instances of shortages. In addition, the greater the number of NDCs marketed by a company, the lower the risk of shortages for that company. Authors suggested that the characteristics of the manufacturing company, rather than the number of companies, may be the missing piece to the complex puzzle of drug shortages in the US. These findings shed light on the debate regarding the role of market competition on the incidence of opioid analgesic shortages.  
To read the entire article on predictors of opioid analgesic shortages, click here.
Supporting drug formularies and use evaluations at UCSF and beyond
Dr. Candy Tsourounis served as chair of an American Society of Health-System Pharmacists (ASHP) steering committee that designed an ASHP resource providing tools and resources for pharmacists, pharmacy residents, and students. This tool helps guide the process of collecting and presenting accurate and relevant information for formulary submissions and medication use evaluations (MUEs) to Pharmacy and Therapeutics Committees. The toolkit also shares best practices for health system formulary monographs and MUEs and can be used for small community hospitals as well as tertiary care medical centers. Individualization is important as each health system is unique and the level of technology available at each type of institution may impact the level of detail that is included in a drug monograph or MUE.
MOC receives new grant looking at market failures in the US pharmaceutical sector
Professor and MOC Director, Dr. Rosa Rodrigues-Monguio, was recently awarded a grant by the Laura and John Arnold Foundation to look at market failures in the US pharmaceutical sector. Between January 2021 and December 2022, this study aims to assess the pharmaceutical market, including the policy and regulatory processes leading to drug development and approval. Using antibiotics as an example, the study will evaluate the extent to which antibiotic drug pricing and reimbursement policies are associated with the effectiveness and added value of new antibiotics compared to those already available in the US market. Study findings will inform policymaking and highlight public health implications related to the development of new antibiotics to address unmet clinical needs.
MOC faculty selected as the Pharmacoeconomics and Drug Use Management Supervisor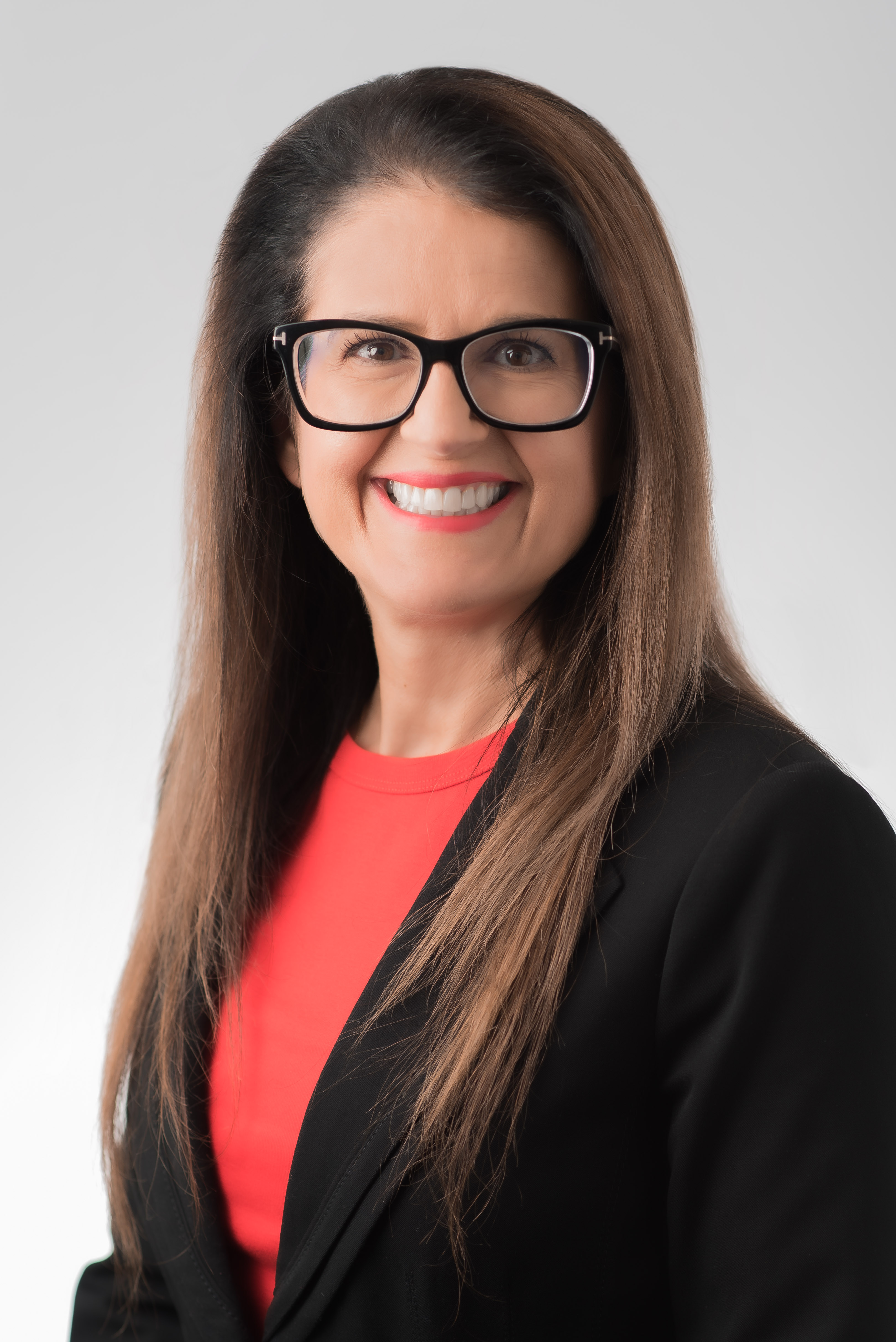 The MOC is pleased to announce that Dr. Candy Tsourounis has been selected as the Pharmacoeconomics and Drug Use Management Supervisor. In this role Candy will be working with pharmacy leaders Dr. Desi Kotis, Chief Pharmacy Executive, and Kenny Scott, Chief Pharmacy Officer, as well as others throughout UCSF Health. She will be providing oversight to the Drug Use Management Program for UCSF Health and analyze trends in drug utilization to identify opportunities to improve drug use and cost-effective prescribing. Candy will continue her work on the Pharmacy & Therapeutics Committee and her position will remain within the Medication Outcomes Center. Congratulations Candy!
MOC Executive Director and faculty support UCSF's COVID-19 response
As COVID-19 vaccines became available, the MOC team played an important role in assuring their rollout. The MOC's Executive Director, Dr. Lisa Kroon, worked with the directors of the School of  Pharmacy's experiential education programs to enable pharmacy students and residents to volunteer as staff for the COVID-19 vaccination campaign. MOC faculty member Dr. Trang Trinh supported this and collaborated with departments across UCSF to create and develop the just-in-time training for pharmacy students and staff who volunteered at the COVID-19 vaccine clinic. Meanwhile, MOC faculty member Dr. Candy Tsourounis led the process of reviewing and documenting the safety and efficacy of the Pfizer and Moderna vaccines. This helped obtain the approvals needed by UCSF's Pharmacy and Therapeutics Committee and Executive Medical Board for addition to UCSF's formulary. Once added to the formulary, Trang participated in the labeling of vaccine vials and syringes, an important process as the vaccines move from various storage phases prior to community-level use. 
Read the full story here.
Informing evidence-based decision-making: MOC 2020 report
The Department of Clinical Pharmacy's Medication Outcomes Center (MOC) recently released its fiscal year (FY) 2020 report. The report highlights an exceptionally productive year in which the MOC led major initiatives to inform best-practices in drug prescribing, utilization and outcomes evaluations, and reduce drug costs while improving operational efficiencies in drug management.
Read the full annual report here.
MOC Work on Machine Learning-Driven Alert System to Identify Medical Errors Highlighted in ASHP Briefing
A recent study co-authored by the MOC Director, Professor Rodriguez-Monguio, and published in the Joint Commission Journal on Quality and Patient Safety, was highlighted in the Friday, January 3rd Daily Briefing of the American Society of Hospital Pharmacists (ASHP).
The study applied machine learning algorithms to identify medication error alerts in the outpatient setting, assessed the severity of potential outcomes of alerted medication errors, and estimated the associated direct health care costs of these potentially prevented adverse events. A total of 10,668 alerts of medium and high clinical value were identified. The estimated cost of adverse events potentially prevented was over $60 per drug alert or $1.3 million when extrapolated to the full patient population.
In partnership with Bulletin Healthcare, ASHP Daily Briefing summarizes the most relevant news stories from thousands of sources and disseminated this important piece of work to its nearly 55,000 pharmacy sector members.
To read the research abstract,click here.
Quality Improvement Work of the MOC Recognized by UCSF Leadership
Quality improvement projects in support of UCSF's True North pillars are an important part of the MOC's work. One of these focused on albumin, an intravenous fluid commonly used in a variety of ailments. The project addressed the common use of this costly drug at UCSF. Of concern was the 1.2 million US dollars spent in direct annual drug costs and the fact that it is often used when other, less costly, alternatives exist. 
Continuously Improving The Learner Experience
As part of her work as Associate Professor and her focus on infectious disease, Trang Trinh is heavily involved in teaching UCSF School of Pharmacy students about antibiotics and their use in treating bacterial diseases and infections. Part of her teaching responsibilities include vancomycin pharmacokinetics (PK). Teaching on how this antibiotic moves throughout the body has been challenging for students in the past and Dr. Trinh has applied for a grant that allows for the use of InsightRX, a more hand-on approach to teaching clinical PK principles. With this grant, Dr. Trinh will be able to determine the value of this tool to improve learning for UCSF students on a subject that has historically been difficult for many.